I'll be doing this!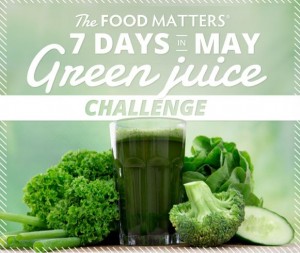 Join this online support for doing a juice cleanse-its' easy as the challenge is to add in a juice not to stop eating stuff or even just juice.  Only add 1 juice each day into normal diet.  Funny this is what I've been doing-for spring according to Chinese Medicine it's important to support and cleanse the Liver/Gallbladder.  They are key to health and spring time is their "season."
When:
May 12 – 18, 2014 (of course if you see this later you can still do it!)
More info is at http://foodmatters.tv/gjc.   They have a free guide with recipes and shopping list to put up on fridge.
Affordable SEO & website marketing byDesignGeekster.com
Also check out
Namasteconcierge.com
, for personal assistant & holistic services providers.